Summary
The Naujaat (Qilalugaq) Diamond Project.
North Arrow's diamond exploration programs are conducted under the direction of President and CEO, Ken Armstrong, P.Geo., a Qualified Person under NI 43-101. Mr. Armstrong has reviewed and approved all information posted on this page that is of a scientific or technical nature.

Location: 9 km northeast of Naujaat (Repulse Bay), Melville Peninsula, Nunavut.
Size: 10,742 ha of contiguous mineral leases and claims
Ownership: 100% North Arrow
Stage: PEA - delineation drilling and sampling for diamonds to obtain diamond value
Inferred Mineral Resource*: 26.1 million carats - 48.8 million tonnes total with an average (+1 DTC) total diamond content of 53.6 cpht to a depth of 205m - Caution *Mineral Resources that are not Mineral Reserves do not have demonstrated economic viability
Closest Infrastructure: 7km from tidewater; 9 km from the Hamlet of Naujaat

Technical Reports: NI 43-101 Technical Report, Mineral Resource, May 13, 2013

Related Diamond Papers and Presentations:
Characterization and Grading of Natural-Color Yellow Diamonds - GIA
Type Classification of Diamonds - Christopher M. Breeding and James E. Shigley
Companion Presentation to April 21, 2015 Press Release on FTIR Study of Yellow Diamonds From Q1-4 Kimberlite - Type Ib Diamonds
---
Highlights
12.5 ha Q1-4 kimberlite is largest diamondiferous kimberlite pipe in eastern Canadian Arctic; located only 7 km from tidewater; ice-free shipping for over three months per year.
Costs to supply a theoretical mine estimated to be ~50% of the costs to supply the Lac de Gras diamond mines via ice roads.
Rare population of orangey yellow diamonds (~21% by carat weight for A28 phase) represent separate, younger population of diamonds than the white population proven by FTIR work.
210 dry tonne surface sample taken in 2017 to test the A88 phase confirmed similar population of yellow diamonds in the A88 phase in similar proportions (see press release dated Feb. 28, 2018).
2017 delineation drilling yielded 2,440 m of kimberlite and core tested all five phases of the kimberlite; a number of holes entering kimberlite earlier and/or staying in kimberlite longer than predicted; working towards update to NI 43-101 Resource Estimate.
Larger bulk sample being planned (~10,000 tonnes) to determine diamond value (permit and financing dependent).
---
Overview - The Naujaat Diamond Project
Details on the NI 43-101 Resource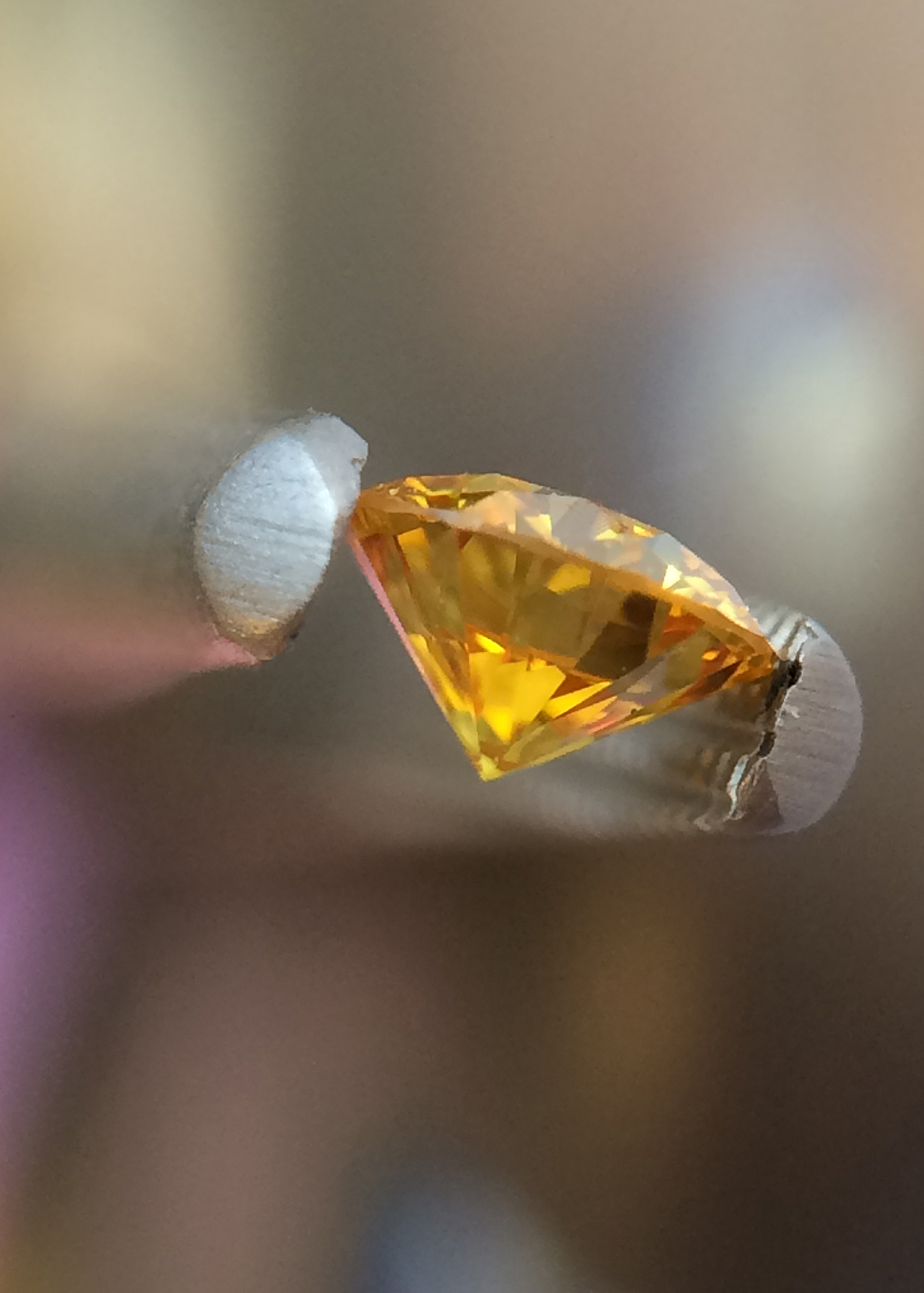 The Naujaat Diamond Project is located in close proximity to the community of Naujaat, Nunavut. Since diamonds were discovered in the area in 2002, the property has undergone several phases of exploration using airborne geophysics, together with property wide till sampling, drilling, and bulk sampling. The Project consists of 7 mining leases and 3 mineral claims covering 10,743 hectares.
A total of eight kimberlite pipes have been identified as well as a number of associated kimberlite dykes. The Q1-4 kimberlite is the largest and most diamondiferous of the kimberlites discovered to date and has been the focus of North Arrow's work since acquiring the Project from Stornoway Diamond Corporation in 2013. Q1-4 is located on Commissioner's Land within the municipality of Naujaat, approximately 9 km northeast of the community.
The May 2013 Technical Report outlines an Inferred Mineral Resource at Q1-4 estimated to be 26.1 million carats total diamond content (assumes 100% recovery) from 48.8 million tonnes total content of kimberlite with an average +1 DTC total diamond content of 53.6 carats per hundred tonnes (cpht) extending from surface to a depth of 205m.
Additional resource upside in the form of a target for further exploration ("TFFE") was estimated at between 7.9 to 9.3 million carats of diamonds (from 14.1 to 16.6 million tonnes total content of kimberlite with an average +1 DTC total diamond content of 56.1 cpht (assumes 100% recovery), extending from 205m depth to 305m depth.
In 2014 North Arrow extracted a 1353 dry tonne sample for the A28 portion of the kimberlite recovering 11,083 diamonds greater than +1 DTC (~1 mm) weighing 384.28 carats for an overall sample grade of 28.4 cpht (carats per hundred tonnes). The recovered diamonds include 30 diamonds larger than the 3 grainer (~0.6 carat) size and 15 diamonds larger than 1 carat. Yellow diamonds, representing a range of hues and tones, comprised approximately 9.0% by stone count and 21.5% by carat weight of the +1 DTC diamonds. The seemingly coarser population of yellow diamonds were determined by FTIR work to represent a separate and younger population to the white diamonds.
Cutting and polishing of some of the clearer orangey yellow rough diamonds in 2016 produced gemstones that were certified by the Gemological Institute of America as fancy vivid orangey yellow. Vivid diamonds have the highest possible colour saturation and demand a premium in the diamond market. More diamonds will be required (approximately 2000 carats total) from the Q1-4 kimberlite to determine whether the yellow diamond population will have a positive enough impact on the overall diamond price because of their coarser population and/or their higher value per carat.
A 2017 mini-bulk sample advanced this evaluation by providing an indication of the characteristics of the yellow diamonds in the A88 phase of the deposit. 209.8 dry tonnes were collected from a single sample pit. The overall sample was divided and processed separately as three subsamples: Green Kimberlite (31 bags; subsample C1), Blue Kimberlite (A88 phase; 60 bags; sub sample C2), and Mixed Blue-Green Kimberlite (159 bags; subsample C3). A summary of the diamond recoveries from each subsample is provided in the table below along with comparable results from the 2014 bulk sample collected from the A28 phase of Q1-4 discussed above.
Sample
Weight
# Diamonds
Carats
Sample Grade
Proportion Yellow Diamonds1
(Dry tonnes)
(+1 DTC)
(cpht2)
By Stones
By Carats
C1
27.06
344
8.46
31.2
2.6%
3.1%
C2
51.73
467
12.99
25.1
9.9%
9.9%
C3
131.04
1,180
42.80
32.6
11.6%
28.2%
C1+C2+C33
209.84
1,991
64.25
30.6
10.7%
21.2%
A2820144
1,353.3
11,083
384.28
28.4
9.0%
21.5%
1 includes very pale to pale to intense/dark yellow + green yellow diamonds; same colour breakdown as undertaken for sample A282014.
2 carats per hundred tonnes
3 total 2017 Pit C sample determined by arithmetic
4 As reported in North Arrow news release dated May 5, 2015.
A bulk sample of ~10,000 tonnes will ultimately be required to accurately determine the overall diamond value. North Arrow is currently reviewing the best direction forward to obtain and finance the sampling program.
North Arrow has also been working towards an update to the 2013 NI 43-101 Resource Statement, completing a total of 3,469 m of drilling as part of 2017 summer program. Eleven drill holes were completed confirming the overall size of the Q1-4 body and better defining the size and shape of the kimberlite at depth.
Drilling between 205 and 305 m below surface (-135 to -235 masl) confirmed (or possibly expanded) previous interpretations of overall pipe geometry with the potential to add significant mineral resources below 205 m (-135 meters above sea level "masl"). The estimated surface area of the kimberlite at 305 m depth below surface (-235 masl) is at least 5 ha and the body remains completely open to depth with the deepest drillhole terminating in kimberlite at a depth of 376 m (-311 masl).
The drilling yielded 2,440 m of kimberlite core which is being used for petrography, indicator and microdiamond analysis and will contribute to a new geological model. Additional delineation drilling may be conducted in summer of 2018 to increase confidence in areas of the TFFE and bring them into the inferred category. An update to the NI 43-101 resource statement will be made when that drilling has been completed and the results have been incorporated into the new model.
In addition to the 2017 drilling, ~3,750 kg of material composited from drill core in the field based on observed lithological units and submitted for processing using a combined dense media separation / caustic fusion process intended to recover diamonds greater than 0.425mm. Results were released on March 28, 2018.
The reader is cautioned that mineral resources are not mineral reserves and do not have demonstrated economic viability. In addition, the potential quantity and grade of any target for further exploration is conceptual in nature, there has not been sufficient exploration to define a mineral resource, and it is uncertain if further exploration will result in the target being delineated as a mineral resource.